March LuxStone Stories
If you can't get enough LuxStone® design inspiration, the wait is over… Introducing LuxStone Stories!
Featuring real customer stories and photos of their LuxStone shower transformations, LuxStone Stories will give you an inside look at just how easy it is to redesign your shower space. Whether you wish to upgrade your shower to enjoy a more luxurious spa-like experience or are looking for a safer bathing solution, LuxStone suits all types of shower spaces and needs.
Meet some of our LuxStone Stories stars and read their full stories below.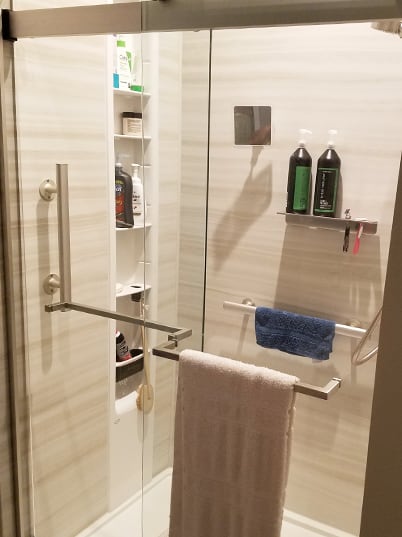 Meet Pat
Pat's home had two shower spaces that had not been updated in decades. Having recently retired, he and his wife were ready for a more luxurious space to relax and unwind. They also saw the remodel as an opportunity to install some stylish safety accessories to make the shower's entry and exit much easier. With LuxStone, the couple's showers are more beautiful, secure and delightfully comfortable. "It's a high-end luxury shower that is worth the price," Pat says. "When people come and look at the bathrooms they say, 'God this looks like an exotic hotel.'"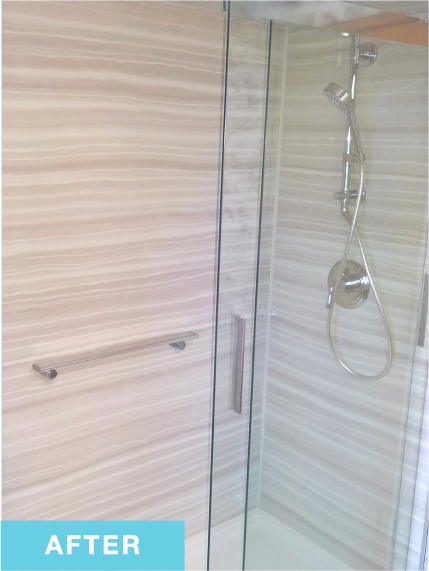 Meet Ted
After his wife Diane had a stroke, the couple decided to modernize their shower for a safer and more relaxing shower experience. The couple chose LuxStone because they loved the high-quality materials and grout-free walls. Their new shower is brighter, easy to clean and offers multiple spray options for a completely custom showering experience.
"The surface itself is incredible," Ted says. "Especially when it's wet, it's almost like a microfiber silky surface. It's just gorgeous. You put your hand on it, it's just got the most beautiful feel in the world."
Meet Paula
With a rainhead that produced an unsatisfying drizzle and a bulky, unattractive bathtub that was a pain to step over, Paula's shower left a lot to be desired. She wanted a shower design that matched her Art Deco-style bathroom remodel and was unimpressed with what she saw at big-box home improvement stores. Then she found LuxStone.
"I can't tell you how much I love the shower," she says of her new space. "It's so beautiful and functional. The maintenance on it is practically nil. It's unbelievable."
And don't forget to check back often for new customer stories and beautiful shower transformations. Do you love your LuxStone shower? We would love to hear your story! Tell us about your LuxStone remodel for a chance to be the next LuxStone Story.